Click here for a video of CMC Rescue MPD User's Guide
Click here for a video of a grain rescue tube and auger
Pictures of ATR Incidents and Training click here
Reminder when the Emergency Operations Center is open the county is divided into 3 sections for ATR responses. Only members is the area where the call is dispatched, ATR1, ATR2 and ATR 30 should respond. Once a unit arrives and additional ATR members are needed we will ask for another page to be sent.
Click here to see the response map when the Emergency Operations Center is Open
Carroll County Advanced Technical Rescue (ATR) Team
The Advanced Technical Rescue Team was established in 1994. The team is made up of Rescue Specialist from the 14 Fire Departments in Carroll County with a purpose of providing advanced technical rescue support to the Fire Departments of Carroll County as well as surrounding jurisdictions. The ATR Team response to various calls for assistance to include:
High Angle (Rope) Rescue
Confined Space Rescue
Trench and Structural Collapse Rescue
Swift Water Rescue
Overland Rescue and Search Operations
The team is managed by a "Core Group" of individuals who provide operational oversight, equipment maintenance, supply ordering and budget forecasting. Those core members include:
ATR 1 Craig Austin
ATR 2 Charlie Green
The team's apparatus (shown below) is housed at the Pleasant Valley Fire Department and consists of an equipment truck and a collapse trailer.
Perspective Applicants for the ATR Team must:
Be affiliated and in good standing with a Carroll County Fire Department(OFF PROBATION)
Have a minimum of Current EMR
Have Firefighter 1
Have Rescue Technician Revised certification or
Have Approval by your Fire Chief
Additional weight will be considered for those individuals who possess certifications in Confined Space Rescue, Swift Water Rescue, Rope I-III or Rope Rescue, Trench Rescue or Structural Collapse Rescue
Team members must remain in good standing with their affiliated departments, complete annual medical physicals including fit and stress tests, and attend at least six team meetings in a twelve month period.
Members of the team meet (unless otherwise noted) on the 2nd Wednesday of every month at 7pm at the Carroll County Emergency Services Training Center on Kate Wagner Road in Westminster.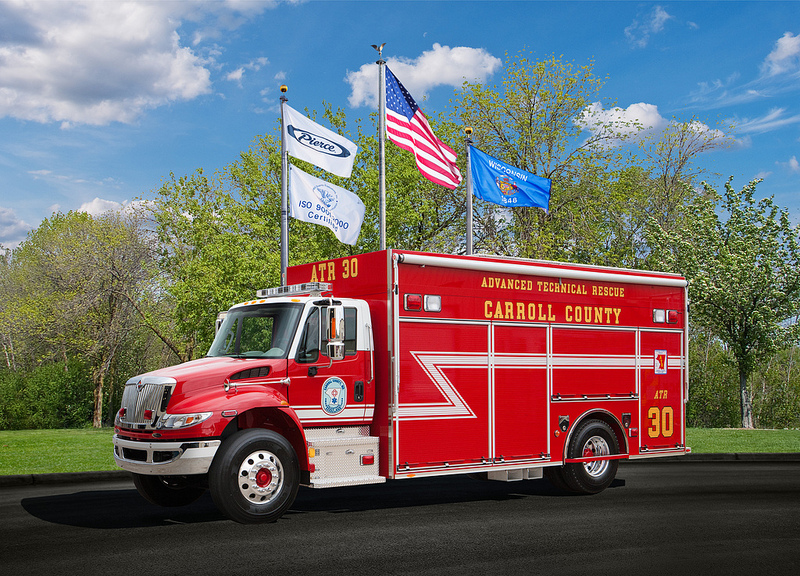 ATR 30- 2012 Pierce Encore built on a International chassis